This is probably the most astonishing birthing video I've seen. An UK mom gives birth by a "Natural C-Section". Absolutely breathtaking. The doctors at Torbay Hospital let this Brit baby wiggle out himself.
I always wanted to have a natural delivery. After almost 30 hours of labor, I was rushed in for an emergency C-section. Like other C-Sections, there was a sterile sheet between my face and the surgical birth of my baby. I don't think I saw him until  5-10 minutes after his birth.
Sarah Saunders gave birth to a beautiful baby boy by a 'Natural C-Section". I had never heard the term before today.
Basically, the doctors made a cut and pulled the baby's head out, but they took the time to allow the baby to emerge from that incision by himself – while Sarah watched.
"Do you want to push" asks the doctor.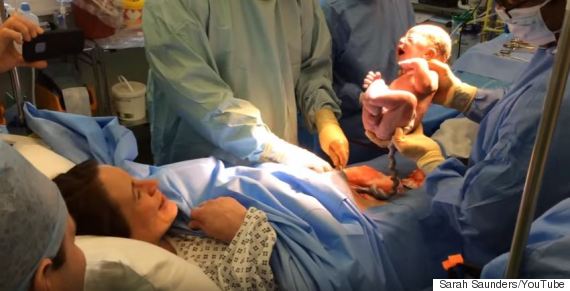 Momma cries, baby cries, and I am bawling my eyes out out as I see this video for the 5th time.
There's nothing more precious than actually seeing your baby being born. What a great bonding opportunity!
"If you are unable to give birth 'naturally' that having a natural caesarean is the next best thing!"
– Sarah Saunders.
I couldn't agree more.